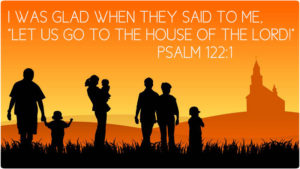 Our church holds services weekly on Sundays and Wednesdays. We invite and encourage all our church family members and friends to worship with us. David said in Psalms 122:1: I rejoiced with those who said to me, "Let us go to the house of the Lord." Hebrews 10:25 tells us "Not forsaking the assembling of ourselves together, as the manner of some is; but exhorting one another: and so much the more, as ye see the day approaching." Join us as we worship and praise our Lord through music, Bible study and hearing the Word of God preached.
SUNDAYS
SUNDAY SCHOOL
If you'd like to attend one of the many Sunday School classes we offer, class starts every Sunday morning at 9:30 am. We have classes for all ages, from the very young, to the very young at heart. If you are a visitor, we have a Welcome Center, where you will be greeted and led to the appropriate class

.
SERVICE START TIMES
Our Sunday morning worship service begins at 10:30 am, Sunday evening worship begins at 6:00 pm. If you're visiting for the first time, we request you fill out a Connection card, located in the back of the church pew, so we can connect with you. All first-time guests receive a free gift at the Welcome Center following the service.
NURSERY
A nursery is available at all services for children birth through 2-years-old. We have dedicated ladies who will love and care for your children.
ELEMENTS KIDS WORSHIP
Elements Kids Worship is available for children 3-years-old through 5th grade each Sunday morning, except the last Sunday of the month. The children attend the music program of the morning worship service, then dismissed to go to their class. The last Sunday of the month, the children stay in the worship service for Family Worship.
SUPPER
We have an awesome
group of ladies
who prepare and serve a meal each week at 5:30 p.m. The cost is $3 adults, $1 students, and pre-school eat free.
The service begins at 6:30 p.m. Classes are divided up by age and grade for young children through the teens. The adults meet in the sanctuary for prayer and Bible study.